How leading pump manufacturer Ensival-Moret reaches out to its customers with value-added maintenance services
Background
Ensival-Moret (
www.ensival-moret.com
) is one of the world leaders in the pumping of phosphoric and sulfuric acids, charged liquids, and in the sugar-making and paper-making industries.
The company was born from the merger of two originally family-owned businesses, which have been in the pumps business for more than 100 years: Ensival, founded in 1905 in Belgium, and Moret, founded in 1868 in France. Today the group operates a global service network (twelve service centers, sixty active agents) and exports to over a hundred countries.
Ensival-Moret (Shanghai) is a fully-owned subsidiary of the group that manufactures, installs, sells and services a wide range of pumps (
www.ensival-moret.com/fiches/en/product.htm
) with its factory located in Shanghai's Minhang district. Customers in China include global players in the petrochemical, chemical, fertilizer, pharmaceutical and food-processing industries.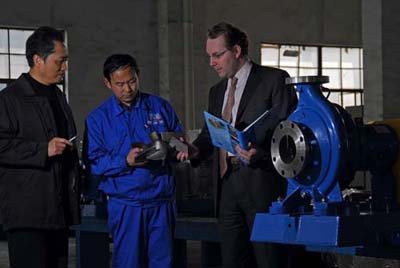 Project objectives
Having foreseen the growing maintenance support needs of its customers (most of them operating highly maintenance-intensive process plants), and with the ultimate goal of strengthening its market position with higher value-added services, Ensival-Moret decided in 2007 to invest in setting up a strong after-sales capability in China.
The company saw the implementation of an advanced maintenance management system as the natural way to go, as it had already enjoyed some success optimizing its engineering and manufacturing operations through extensive computerization (ERP, PDM). This approach would enable a total life-cycle management of the pumps: from design to installation, all the way to operation and maintenance. The information collected from the field would then help further improve design: getting closer to its customers' day-to-day operation would allow the manufacturer to better address their needs.
Ensival-Moret subsequently set out to implement what was then – and perhaps is still today – a visionary approach in China, a market where the focus was too often put on construction, at the lowest possible cost, with after-sales services not considered worth paying for…
Project implementation
Ensival-Moret started working with Siveco China in 2007 to help structure its growing after-sales service business using the Coswin CMMS.
In the initial phase, Coswin was primarily used by the after-sales department to manage its installed base (customers, locations and pumps), to keep track of ongoing contracts (warranty periods and maintenance contracts) and to run its daily operations (delivery of parts, onsite services for both corrective and preventive maintenance). All technical information (bill of material, specifications) and related documentation are automatically transferred to the maintenance database from the PDM/ERP systems. The entire spare parts supply-chain is also integrated between the different systems, giving the after-sales department visibility into the manufacturing process (when can we deliver this part to customer?) and allowing the production team to better forecast demand (what capacity do we need to support existing customers?). By helping optimize the company's resources, Coswin enabled Ensival-Moret to focus on higher value-added services, such as preventive maintenance.
Once this solid foundation established, the second phase of the project consisted in making the system accessible to field technicians and customers through the internet. Coswin being web-based from the start, this switch was a management decision rather than a technical step. Major Ensival-Moret customers are now able to access Coswin through a secured website, giving them online access to their pumps technical documentation and recommended preventive maintenance plans. Customers' maintenance engineers can raise and then keep track of work requests, monitor progress and service performance, as well as analyze the pumps' maintenance history directly in their internet browser.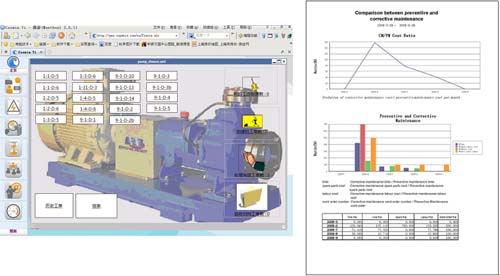 Sample Ensival-Moret customer screenshot and report

Based on the results already obtained, more advanced features are being made available to Ensival-Moret customers. For example, for customers that have installed Ensival-Moret condition monitoring solutions, alarms and diagnosis can be automatically transferred to Coswin. The joint Ensival-Moret and Siveco teams also provide additional assistance, such as training or maintenance audits, to some of the customers.
Today
The cooperation between Ensival-Moret and Siveco teams started in 2007 and continues to this day. As a result of the joint project, Ensival-Moret became the first pump manufacturer in China to manage its customers' assets remotely through an online tool.
"We have, over the years, enjoyed an excellent partnership with Siveco, which has allowed us to get closer to our customers. The initiative of providing external access to Coswin, in particular, received a very positive response in the chemical industry" said Alain Seyeux, General Manager of Ensival-Moret in China. He added: "This ability to get direct feedback from our customers' operations will ensure we continue to be at the forefront of innovation in pump design and support services, as we have been in the past 140 years".